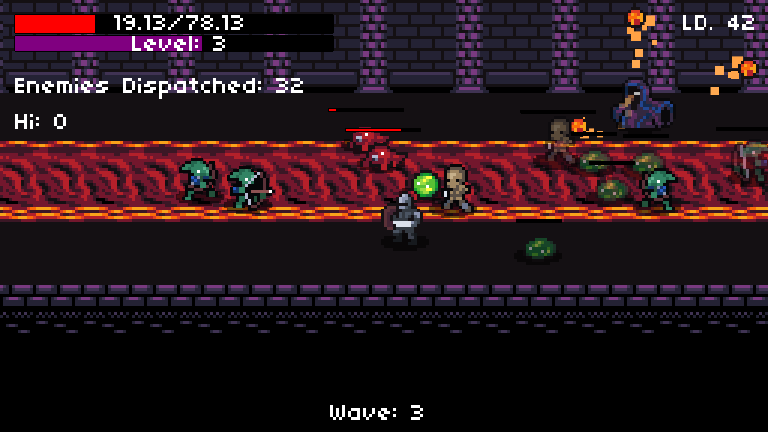 Mob Floor - Ludum Dare 42
A downloadable game for Windows
Hack, Slash, and Toss mobs to avoid *running out of space*!!
Defeat monsters to stun them, and toss them over the bottom of the level to kill them! If you dont get rid of them, they will swarm you, take up movable space, and make it harder to survive.
How high of a score can you get?
Kill and throw the dummy off of the void to start the game.

*** Controls (Keyboard) ***

wasd - movement.
L-click - attack.
R-Click - Block
Space - Grab and Throw
Enter - Pause

*** Controls (Gamepad) ***
arrow keys to move
x - Attack
b -Block
a - Grab and Throw
start - Pause

*** Safety Keys (Important) ***

Ctrl - Returns player to game area, near the center of the room.
(Only use if you get stuck in a glitch! Abusing this will ruin the game! In other words, dont use it just because monsters are swarming you)

Esc - Restarts the game
Press 0 to reset the high score.

* if you get a popup asking to search for an app in the app store, just click no *

Download
Click download now to get access to the following files:
Mob Floor - Balanced Version.zip
5 MB
Comments
Log in with itch.io to leave a comment.
Sorry for late reply. Ive been super busy IRL. You are supposed to pick up the monster (with space) and throw it over the bottom of the screen.